It just started.  Despite what numerous pundits previously alleged regarding a Chicago real estate recovery, it has only now started.  If you're interested in buying property—or investment in general—then you don't want to miss this next wealth phase in Chicago real estate.
This month, our insider technical analysis trigger (shaded green areas) secretly alerted us to the start of the next Chicago real estate wealth cycle.  Heeding the guiding principles in this simple chart remains especially important if you're buying property using debt financing.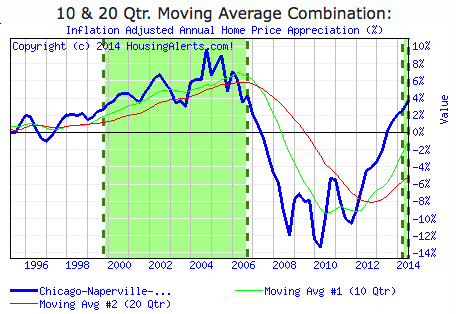 In other words, if you bought property in Chicago the last five years using a bank loan (at any interest rate), then it's guaranteed you were borrowing money under a negative appreciation leverage scenario—not good.  To discover the truth on how that works, read the first three lessons in this rare real estate book.
I've been tracking these wealth triggers for four years now—from San Francisco to Chicago.  As you know, San Francisco's tidal wave emerged two years ago.  Finally, a Chicago real estate wave has surfaced.
How far will this latest surge carry us?  No one knows for certain.
However, when the tide reverses course, our insiders shall be alerted first.  Hint: never use median home price data to evaluate or predict real estate levels.  Using median home price data will lead your wallet into the Bermuda Triangle.
If you believe a rising tide lifts all boats, then you'll want to start here.